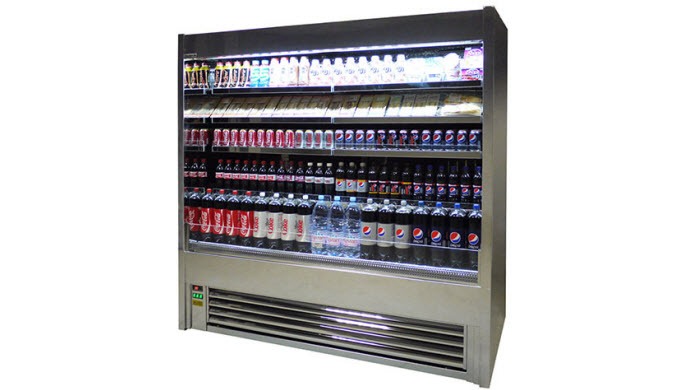 Premium display fridge, with the large open display of an ECO-Fridge multideck display chiller helps grab the attention of your customers and encourages impulse buys. Multideck chillers take up less space than a glass front display fridge, particularly those models with doors. This makes them ideal for smaller spaces, or stores where floor space is
Description of the Product
Premium display fridge, with the large open display of an ECO-Fridge multideck display chiller helps grab the attention of your customers and encourages impulse buys. Multideck chillers take up less space than a glass front display fridge, particularly those models with doors. This makes them ideal for smaller spaces, or stores where floor space is limited, such as those with narrow aisles.
The range of stylish and durable ECO-Fridge multideck chillers are perfectly suited for the fast-growing grab and go sectors such as coffee shops, cafes and convenience stores. They come in a variety of models to suit your needs, including high capacity, medium and slim line designs. Models with a heated display function are also available.
Low height multideck chillers are the ideal display fridge for snacks, placed at impulse points near till points and in convenience stores and petrol station forecourts. Slimline multidecks are ideal for sandwiches, salads and chilled drinks in coffee shops, cafes and restaurants. Large multidecks are ideal for supermarkets and larger convenience stores where the volume of chilled produce is high.

ECO-Fridge multideck refrigerated displays are available in stainless steel, black steel and white steel finishes, with widths ranging from 600mm up to 1900mm, giving you the perfect option no matter the size of your business.

All ECO-Fridge multideck chillers have an innovative air curtain system, which recycles the cold air that is normally wasted in conventional designs, making our multideck chillers some of the most sustainable and environmentally friendly models available.

With an ECO-Fridge multideck chiller, you don't have to sacrifice an eye-catching display for superior refrigeration, particularly where the produce is perishable, or has a short shelf life. They combine superior chilling capacity with the ability to create an eye-catching display.
Price of the Product
Price not indicated