Outdoor silo in stainless steel
- Product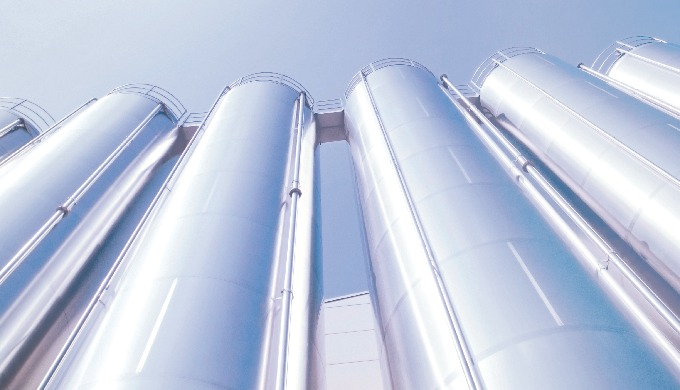 Outdoor silos in stainless steel for powders and granular products.

Globosilos are designed and built internally in dedicated tower. Our exclusive welding technique leaves no seams between the cylinders, reducing the risk of contamination to zero. The inner surface is entirely smooth inside to prevent the persistence of leftovers. Globo
Description of the Product
Outdoor silos in stainless steel for powders and granular products.
Globosilos are designed and built internally in dedicated tower. Our exclusive welding technique leaves no seams between the cylinders, reducing the risk of contamination to zero. The inner surface is entirely smooth inside to prevent the persistence of leftovers. Globosilo is hygienic and safe and comes with powder recovery filters and air exhaust system. ATEX conform and suitable for all food ingredients including abrasive ingredients.
Extraction can be single or multiple with fluidized bed for flour oxygenation, accurate FIFO management and waste efficiency, or with vibrating cone for all products including abrasive and hygroscopic products like sugar and salt.
Includes: access door to the skirt with lock, manhole in stainless steel for control of the cleaning, and advanced safety technologies such as safety group for overpressure and depression, anti-explosion hatch and slide valve. Globosilos can be can be fitted with anti-condensation system for the control and regulation of internal temperature, and insulation or drying systems according to the stored product or in case of specific weather conditions.
Heat treatment is available for the sanification and total disinfestation of outdoor silos by heat against pests of flour and powdery food products and micro-organisms such as bacteria and fungi. Heat treatment has zero environmental impact.
Integrated automation and full traceability.
Features & Technologies:
Exclusive welding technique that leaves no seams between the cylinders, reducing the risk of contamination to zero
Anti-condensation & dehumidification systems
Recovering filters for powders and air exhaust system
Insulation and drying technologies
Bursting disk and anti-explosion hatch
Safety system against overpressure and depression
CEPATIC safety system against loading overpressure
Guillotine valve
Ladder to access the upper part and protection rail on the roof
Weight control in real time, integrated automation and full traceability
Control unit
Minimum and maximum level sensors
Extraction by vibrating cone or fluidized bed (patented)
Multi-line distributor
Price of the Product
Price on request
Characteristics of the Product
Type

Outdoor silo

Model

Globosilo

Dimension

Custom

Brand

CEPI

Certification

ATEX
I want to get more details about the product
Company catalogues - CEPI SPA

Product Catalog (English)
36 pages

Company Profile (English)
10 pages

Globosilo brochure: outdoor silo in stainless steel (English)
5 pages

Silbox brochure - indoor silo in stainless or aluminium steel (English)
5 pages

Fermentation systems brochure (English)
9 pages

Bread and biscuit rework systems brochure (English)
7 pages

Integrated automation brochure: operatore panels, weighing in real time and process control software (English)
10 pages

Dump station brochure (English)
6 pages

Big Bag Dump Station brochure (English)
5 pages

Sugar Mill brochure (English)
5 pages

Flour Cooling System brochure (English)
5 pages