Fermentation technology
- Product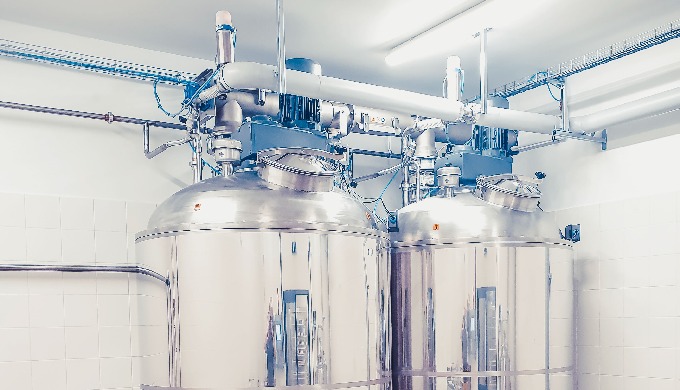 Fermentation tanks, yeast melters and bread re-work dissolvers for sourdough, pre-dough and poolish. For healthy, natural and aromatic products with long shelf life.

Our fermentation systems are highly customized and can stand-alone or be easily integrated in the production process, allowing for bread making through both direct method a
Description of the Product
Fermentation tanks, yeast melters and bread re-work dissolvers for sourdough, pre-dough and poolish. For healthy, natural and aromatic products with long shelf life.
Our fermentation systems are highly customized and can stand-alone or be easily integrated in the production process, allowing for bread making through both direct method and indirect two steps method depending on the need of the manufacturer. They are modular and suitable for small, medium and big production lines.
Our systems fully preserve the characteristics of the raw materials and meet the highest standards of hygienic production. Built in stainless steel, the systems are easy to clean and can be equipped with CIP or PIG cleaning system.
Fermentation leads to healthy, natural and aromatic products with long shelf life, improved digestibility and nutritional value. For this reason, it is especially suitable for the production of rye, wheat and multigrain breads, pizza, focacce, brioches and crackers. Fermentation improves the quality of the final product and rationalizes the resources involved, saving space, manpower, additives and yeast. With a deep knowledge of the materials involved and of all aspects of the process, we offer flexible solutions that deliver the highest levels of precision and full control of all processes, as well as standardization and repeatability of procedures.
Integrated automation and full traceability. Management is flexible with manual or automatic options for all operations. PLC control with touch panel.
Features & Technologies:
Fermenters, yeast melters and bread re-work dissolvers
For sourdough, pre-dough and poolish
Double jacket and/or insulated tanks in stainless steel of variable capacity
Integrated cooling and heating systems
Temperature and PH control
Automatic dosing of flour
Stirrer with wall and floor scraper with adjusted speed, to gently work the raw materials into the tank and avoid clumps
Extraction with total emptying
Upstream mixing for a more homogeneous dough and quick water absorption
Easy to clean design and CIP or PIG cleaning system
Manual or automatic loading
Weight control in real time, integrated automation and full traceability
Price of the Product
Price on request
Characteristics of the Product
Type

Sistemi di fermentazione

Model

Sistemi di fermentazione

Dimension

Custom

Brand

CEPI

Certification

ATEX
I want to get more details about the product
Company catalogues - CEPI SPA

Product Catalog (English)
36 pages

Company Profile (English)
10 pages

Globosilo brochure: outdoor silo in stainless steel (English)
5 pages

Silbox brochure - indoor silo in stainless or aluminium steel (English)
5 pages

Fermentation systems brochure (English)
9 pages

Bread and biscuit rework systems brochure (English)
7 pages

Integrated automation brochure: operatore panels, weighing in real time and process control software (English)
10 pages

Dump station brochure (English)
6 pages

Big Bag Dump Station brochure (English)
5 pages

Sugar Mill brochure (English)
5 pages

Flour Cooling System brochure (English)
5 pages