ELECNC-3076 ATC CNC Router with Large Working Size
- Product
Jinan City, Shandong -
China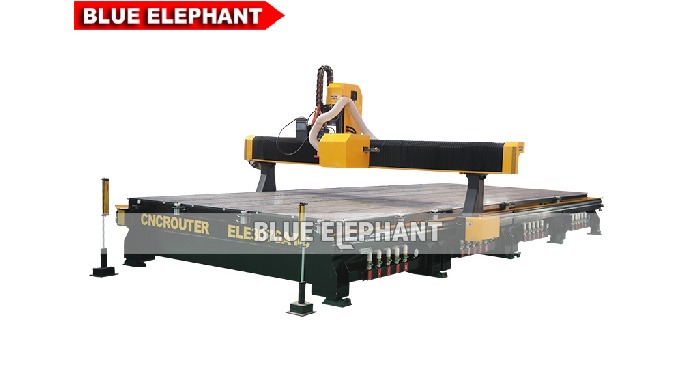 Advantages:
1. Compared with Multi-spindles CNC Router Machine, ATC CNC Routers can change tools automatically in the engraving process.
2. The machine was designed with carousel type auto tool change, which is different from the 3015 liner ATC CNC Router Machine.
3. Distinguished with 4*8 ATC CNC Router Machine
Description of the Product
Advantages:
1. Compared with Multi-spindles CNC Router Machine, ATC CNC Routers can change tools automatically in the engraving process.
2. The machine was designed with carousel type auto tool change, which is different from the 3015 liner ATC CNC Router Machine.
3. Distinguished with 4*8 ATC CNC Router Machine, the working size and processing area are larger. In that case, the working efficiency can be greatly promoted. Meanwhile, you can save lots of labor cost.
Features:
1. With high stable. The transmission system is higher than our common type, and we use German WMH brand Rack and Pinion, 25mm and 30mm linear guide rail Sweden SKF ABBA brand.
2. Adopted HSD air cooling spindle and YASKAWA servo motor, and the speed of spindle can reach 24000RPM for per minutes.
3. With humanization design. The machine is designed with spindle cover and laser screening system, which means that if someone come closer to the machine, the machine will stop immediately.
4. Equipped with dust cover for x axis, which can help customer save much time for maintenance.
5. Please notice that all the specifications can be made and designed according to your special requirements.
Price of the Product
Price not indicated
Technical Details
Parameters:
Description : Parameter
Model : ELECNC-3076ATC
Working area : 3000*7600*400mm (we can also customize according to your needs)
Tool magazine : Carousel tool magazine with 8 tools, ISO 30 tool holder
Spindle : Italy 9kw HSD ATC air cooling spindle (24000rpm, ISO) ES951 Model
Motor and drive : Japan YASKAWA 1300w motor and 1500w drive
Control system : Syntec 6MD-H control system, with wireless control handle
Inverter : Taiwan Delta 11kw B inverter
Reducer : Japan Shimpo reducer
Transmission : German WMH brand Rack and Pinion;Sweden SKF ABBA ; 7000mm—-30mm linear guide way
3000mm and Z axis—25mm linear guide day;
Taiwan TBI ball screw;
Structure : Heavy duty body, 10-15mm industrial class square tube strong structure
Tool sensor : Auto Tool sensor system
Positioning cylinder : Round cylinders for 10 pieces
Lubrication : Auto Lubrication system
Pump : German Becker pump (KVT.3.140,4kw ) —4 SETS;New type 1.5kw With 2 bags, special design for dust collect pipe connection
Dust cover : Dust cover design, operator safety is promised;
Laser screening the cnc will stop as soon as people come closer to the machine, humanity safety design for laser screening
Table surface : T-slot and vacuum table combined
Computer interface : Usb
Spare parts : Shanghai Cardiff brand wire, for high soft shield;Scheider electric E-stop buttons;
Japan Omron limited switch;
Applications of engraving machine:
1.Wood-working industry: Ideally suitable for furniture decoration,musical instruments,wooden crafts,solid wood furniture,MDF paint-free door,wood composite door,cabinet,kitchen doors,windows,night table,etc.
2. Decoration industry: Art model,Wall Art,screen felief engraving and cutting,decoration processing,gifts wrapping,waved plate,electrical cabinets panels,sports equipment,and other wooden industrial products.
3. Advertisement: Acrylic,double color plate,PVC,ABS board,aluminum plate,density board,artificial stone,organic glass,soft metals like aluminum and copper,cut matrix,character,signs,trademar.