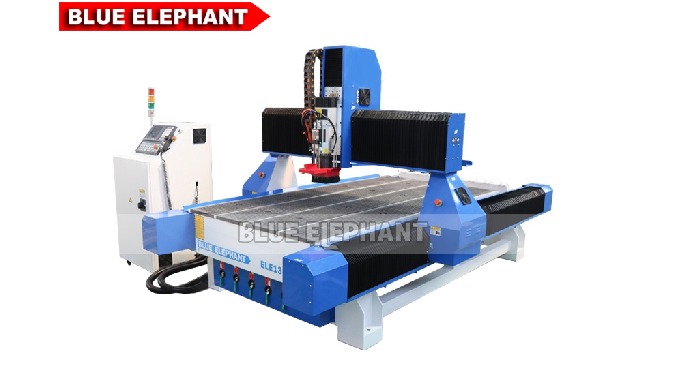 Features:
1. There are two kinds of ATC CNC Router Machines, and this machine was designed with linear tool changer magazine. While, the machine also can be made with carousel tool changer, just like 1530 ATC type for Cabinet.
2. Multi-head or spindle machine can change 2 or 3 or 4 tools when process different kinds of
Description of the Product
Features:
1. There are two kinds of ATC CNC Router Machines, and this machine was designed with linear tool changer magazine. While, the machine also can be made with carousel tool changer, just like 1530 ATC type for Cabinet.
2. Multi-head or spindle machine can change 2 or 3 or 4 tools when process different kinds of raw materials, but ATC CNC Routers can change more than 8 types of tools automatically according to the different knife functions in the engraving process.
3. This machine is equiped with 11KW Taiwan DELTA Inverter.
4. The machine was designed with removable rotary device, which is distinct from 3 axis CNC Router. And it's length and dimension can be customized according to your actual needs.
5. If you want to do three-dimensional objects or molds or more complex steps, the spindle is required to swing 180 degree. Please refer to 1530 Carousel Tool Changer CNC Router 4 Axis machine , it will give you some suggestions; While, if you want a lager working size, 3015 Linear ATC CNC Router is an option.
6. Please notice that all the specifications can be made and designed follow your own situation.
Price of the Product
Price not indicated
Technical Details
Parameters
Model: ELECNC-1325 ATC
Working Size : 1300*2500*300mm
Working Voltage: 380V, 3Phase, 50Hz ( Option)
Control System: Taiwan SYNTEC 6MB Control System
Spindle: 9KW HQD Air Cooling Spindle
Spindle Speed: 0-24000rpm
Inverter : 11KW Taiwan DELTA Inverter
Motor & Driver: 850W Japan YASKAWA servo motor and 1KW servo driver
Table Surface : T-slot & Vacuum Table
Lubrication System: Auto Lubrication System
Gantry Structure: Gantry Moving
Spray/ Flume : Automatic Oil Mist Cooling
Structure : New type thicker and bigger heavy duty welded frame and gantry
X,Y,Z Transmission: Helical rack on X,Y axis and Taiwan TBI Ball Screw on Z axis
X,Y,Z Rail : Taiwan ABBA/ PMI/ HIWIN Square Guide,#25
Vacuum Pump : 5.5kw water vacuum pump
Dust collector: New type double packet dust collector (380V, 3Phase, 50Hz)
Tool Sensor: Auto Tool Sensor Calibration
Sample & Application
1. Wood furniture industry: Doors; Cabinets; Tables; Chairs.Wave plate, fine pattern, antique furniture, wooden door, screen, craft sash, composite gates, cupboard doors, interior doors, sofa legs, headboards and so on.
2. Advertising industry: Signage; Logo; Badges; Display board; Meeting sign board; Billboard
Advertising filed, sign making, acrylic engraving and cutting, crystal word making, blaster molding, and other advertising materials derivatives making.
3. Die industry: A sculpture of copper, aluminum, iron and other metal molds, as well as artificial marble, sand , plastic sheeting, PVC pipe, and other non-metallic mold.
4. Artwork and Decoration:wood crafts; gift box; jewelry box
5. Others Relief scul: pture and 3D engraving and Cylindrical object.