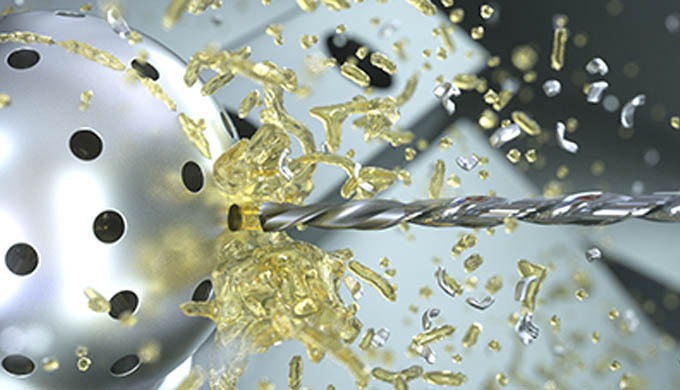 CrazyDrill Cool, a through coolant deep-hole drill program for a wide range ofmaterials. The application range goes from hole diameters of 0.75 mm up to 6.00 mm and
depth of cut up to 15 x d. Depending on the material to be machined, the drills are available with or without wear protectivecoating.
Combining Mikron Tool CrazyDrill Pilot
Description of the Product
CrazyDrill Cool, a through coolant deep-hole drill program for a wide range of materials. The application range goes from hole diameters of 0.75 mm up to 6.00 mm and
depth of cut up to 15 x d. Depending on the material to be machined, the drills are available with or without wear protective coating.
Combining Mikron Tool CrazyDrill Pilot (or CrazyDrill Coolpilot e.g. CrazyDrill Pilot SST-Inox for difficult to machine materials) with CrazyDrill Cool allows for accuracy in deep drilling operations. Depending on the material to be machined, a pecking cycle for chip removal may be necessary. By means of fine-tuned tolerances between CrazyDrill Pilot and CrazyDrill Cool, accurate drilling and excellent hole quality are assured with precision alignment and no measurable diameter difference between tools.
The through coolant holes supply adequate and continuous coolant to the tip for constant cooling, lubrication and chip removal. The power chamber reduces pressure loss assureing higher flowrate when drilling even the smallest diameters. High drilling speed and good tool life are the result.
Price of the Product
Price not indicated