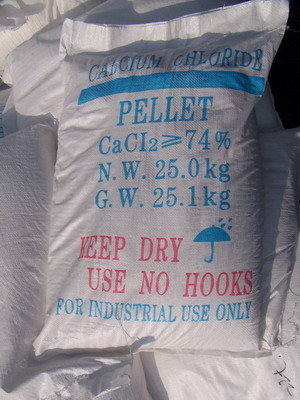 Product Description:
colorlesscubiccrystal.whiteorwhiteporousorgrain,honeycomb.oderless,slightlybittertaste.Relativedensityof2.15(25ºC).meltingpointof782ºC,boilingpointof1600ºC.strongmoistureabsorption.Itiseasytodeliquescentintheair.Easytosolubleinwaterandatthesametimereleaselotsofheat.It'swatersolutionisslightacidity.solublewithalcohol,acetone...
Description of the Product
Product Description:
colorless cubic crystal. white or white porous or grain, honeycomb. oderless, slightly bitter taste. Relative density of 2.15(25ºC). melting point of 782ºC, boiling point of 1600ºC. strong moisture absorption. It is easy to deliquescent in the air. Easy to soluble in water and at the same time release lots of heat. It's water solution is slight acidity. soluble with alcohol, acetone and vinegar. React with ammonia and alcohol to produce CaCl2·8NH3 & CaCl2·4C2H5OH. Under the common temperature, crystal to produce Hexahydrate. add heat to 30ºC and it is soluble with self crystal water. Continously add heat, lose water, to 200ºC become dihydrate. Add heat to 260ºC it becomes water porous calcium chlorde,anhydrous.
Application of Industrial Calcium Chloride:1) Be used in highway, expressway, parking lots and airport to melting snow and ice in winter;2) As the dehydrating agent of oil drilling, drilling fluids, completion fluids, oil and chemical; 3) Keep dust, coal dust and mineral dust away;
4) Be used as early strength agent of concrete and the coatings coagulant in the construction industry;5) To be made desiccant of manufacturing industries;6) Used to make emulsion coagulant in rubber industry.7) As the chlorinating agent and additives of ferrous metallurgy industry;8) Be used as the additive in papermaking industry and removing printing ink agent;9) As the inorganic chemical raw materials of chemical industry and prolapse agent of sulfate, coagulant of sodium alginate;10) As the refrigerant;11) As preservative of wheat, apples, cabbage and others and food additive; 12) Be used in the production of dyes and dyeing industry.

Packaging:
25kg/50kg/100kg/500kg/1000kg PP woven bag with PE film inside

Price of the Product
Price not indicated
Technical Details
For the specifications, please check our website: www.yuyinchem.com or contact sales.
Category of the Product
I want to get more details about the product
Company catalogues - Qingdao Yuyin Chemical Co., Ltd.