Bread and biscuit scrap rework systems
- Product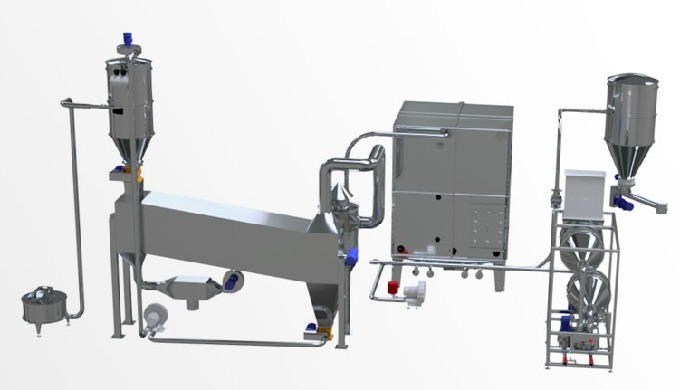 Fully automated rework systems for bread and similar products such as toasts, loaves and sandwiches. The final product can be fed back into production in place of flour, sold, used for animal feed, or worked again to produce croutons or bread crumbs.

Biscuit rework systems are also completely automated are re-use the powders on the prod
Description of the Product
Fully automated rework systems for bread and similar products such as toasts, loaves and sandwiches. The final product can be fed back into production in place of flour, sold, used for animal feed, or worked again to produce croutons or bread crumbs.
Biscuit rework systems are also completely automated are re-use the powders on the production line. Product can be put directly on the conveying line.
Reworking production scraps makes the process more sustainable and efficient, with less material consumptions and waste. The system eliminates the need to store scraps and guarantees a high quality end product with no loss of proteins compared with the flour used in the beginning of the process.
Features & Technologies:
Fully automated
Sustainable
Reuse in production, sell or use to produce croutons and bread crumbs
Loading
Grinding
Drying with fluidized bed (bread rework only)
Hot air (bread rework only)
Storing with temperature control
Cooling (bread rework only)
Cutting mill
Magnet
Mulino a coltelli
Deferizzatore
Filter
Weighing in real time, integrated automation and full traceability
Price of the Product
Price on request
Characteristics of the Product
Model

Sistemi di recupero pane e biscotti

Dimension

Custom

Brand

CEPI

Certification

ATEX

Label

Sistemi di recupero pane e biscotti
I want to get more details about the product
Company catalogues - CEPI SPA

Product Catalog (English)
36 pages

Company Profile (English)
10 pages

Globosilo brochure: outdoor silo in stainless steel (English)
5 pages

Silbox brochure - indoor silo in stainless or aluminium steel (English)
5 pages

Fermentation systems brochure (English)
9 pages

Bread and biscuit rework systems brochure (English)
7 pages

Integrated automation brochure: operatore panels, weighing in real time and process control software (English)
10 pages

Dump station brochure (English)
6 pages

Big Bag Dump Station brochure (English)
5 pages

Sugar Mill brochure (English)
5 pages

Flour Cooling System brochure (English)
5 pages