Automatic sliding door operator(Wall mounting type, For heavy door) CT-803F of CORTECH CO..LTD
Product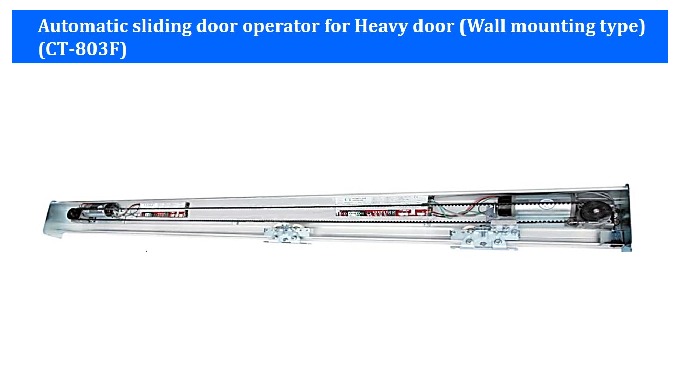 All important parts including Controller, Motor, etc. of this operator are made in Korea.
- Wall mounting type
- Sliding door system for more big size entrance in factory or depot. Equipped two motorr
- Self-diagnosis function at initial setting
- Automatically adjust width of opening/closing(50~100%)
- Motor is High effici...
Description of the Product
All important parts including Controller, Motor, etc. of this operator are made in Korea.
- Wall mounting type
- Sliding door system for more big size entrance in factory or depot. Equipped two motorr
- Self-diagnosis function at initial setting
- Automatically adjust width of opening/closing(50~100%)
- Motor is High efficient and low noisy DC 24V including reducer(worm gear type)and encoder, and electric locking
..system is built in
- Self-circit protected controller
- Keep steady voltage by SMPS(Switched-Mode Power Supply)
Product ready for delivery
Characteristics of the Product
Type

Wall mounting type

Model

CT-803F

Dimension

4800mm

Brand

Cortech

Certification

CE

Origin

Korea
Category of the Product
I want to get more details about the product
Company catalogues - CORTECH CO..LTD