atc cnc router 1325 price wood metal cutting machine for kitchen cabinet door
- Product
Jinan City, Shandong -
China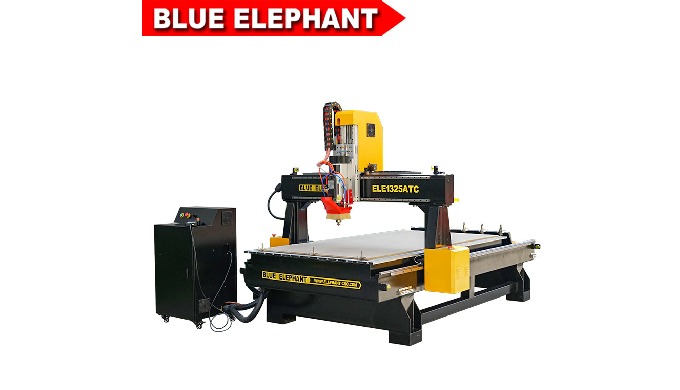 Features:
1. Designed with linear tool change magazine, 6 sets of tools can be changed automatically in the engraving process, which means time saving or labor saving.
2. With Simple appearance, showing machine stability and aesthetics.
3. With 9kw HQD ATC air cooling spindle, and it's speed can be accelerated to 18000RPM.

...
Our recommended products and services
Description of the Product
Features:
1. Designed with linear tool change magazine, 6 sets of tools can be changed automatically in the engraving process, which means time saving or labor saving.
2. With Simple appearance, showing machine stability and aesthetics.
3. With 9kw HQD ATC air cooling spindle, and it's speed can be accelerated to 18000RPM.

Technical parameters:
Lubrication system:Auto Lubrication system
X,Y,Z Working Area:1300x2500x400mm
Structure:Industrial class square tube strong structure
Working voltage:220v,3ph,50hz
Table Surface:T-slot and vacuum working table
Spindle:9kw HQD air cooling ATC spindle
Spindle speed:0-18000rpm
Motor and driver:750w Leadshine servo motor and 750w Leadshine servo driver
Inverter:11kw Fuling inverter
Dust Collector:1.5kw new type dust collector
Control System:NK105 G3 control system
Sprayer:Water cooling sprayer for aluminum
Limit:Japan Omron limit
Tool sensor:6 pcs auto tool sensor calibration
Price of the Product
Price not indicated
Characteristics of the Product
Type

atc cnc rotuer

Model

1325atc

Power

9kw

Size

1300*2500

Weight

1500
Category of the Product