Contact - Aromaville Coffee
23, Seohae-ro 987beon-gil, Paltan-myeon
Hwaseong-si 18530
South Korea
Send a message - Aromaville Coffee
Legal information - Aromaville Coffee
| | |
| --- | --- |
| Nature | Head Office |
| Year established | 2001 |
| Describe your Company and attract Business opportunities | |
| Corporate capital | 300,000 USD |
| Co.Registration No | 1228168406 |
| No employees | 17 Employees |
| Kompass ID? | KR123733 |
| Kompass member for | New |
| Membership | Booster International |
Presentation - Aromaville Coffee
coffee, brewed coffee, drip coffee, in-house coffee, Packaged coffee beans
# Company Information
Aromaville Coffee was established in 2001 to produce coffee and coffee related products.
Our products are famous for good quality, which comes from careful selection of green beans and coffee roasting skills.
We are committed to food safety and hygiene by obtaining HACCP and ISO 22000 certification.
In addition, through many years of research and development, we have obtained patents such as disposable coffee extractors, and are leading the market by launching products using the patents.
Our efforts to produce quality products have resulted in supplying products to famous domestic mart chains such as E-Mart and Lotte Mart. In addition, our OEM products are currently being exported to China.
We will continue to research and endeavor to advance our products into the global market so that more people can access and enjoy our products.
# Main Products: Drip brewed
coffee_with_Patented Cup-Type Disposable Dripper
- Handrip* Outdoor 5T** (Colombia/ Kenya/ Ethiopia/) : Suitable for outdoor activities
- Handrip 50T (Colombia/Ethiopia/Kenya/Kilimanjaro)
- Handrip 30T (Colombia/ Ethiopia/ Kenya/Kilimanjaro)
- Handrip 10T (Colombia/ Ethiopia/ Kenya)
Instant Coffee (3 in 1)
- Rainbow Mocha Gold 100T
- Handrip Specilaty 10T/30T (Kenya AA TOP, Ethiopia Kochere Kedida G1, Tanzania Kilimanjaro AAA)
*'Handrip' is our registered brand and Handrip products are using our pateded disposable dripper (Cup Filter)
**'Arabic number before 'T' stands for number of coffee sticks per SKU
# Strength
1. The easiest way of enjoying brewd(drip) coffee! What you need is just hot water!
By using our patented cup-type disposable dripper and single nitrogen-packaged ground coffee,
You can enjoy brewd coffee beans anytime, anywhere! and it's the simplest way of single serving coffee!
No need of coffee grinder, dripper, server. What you need is a hot water and any cup of your choice!
2. Can be used on any cup?
It is a patented dripper that can be mounted stably regardless of size, making it easy to use.
We have 2 types of dripper by size: #1 Small, #2 Large
#1 Dripper is suitable from 4oz to 13oz sized cups
#2 Dripper is suitable from 6oz to 20oz sized cups
3. Simple Clean up
Easy brew and easy dispose without unnecessary washing.
4. Drink safe without worry
Handrip drippers are made from natural pulp material, and beans are roasted and packaged in a HACCP, ISO 22000 certified facility.
# Catalog URL
https://bre.is/ynVbjWbc
# Video
https://www.youtube.com/channel/UCe4Ht1pAv5iYhcM5gfdGotA
Company catalogues - Aromaville Coffee
Company's Videos - Aromaville Coffee
General Information - Aromaville Coffee
Import area
Africa, Asia-Pacific, North America
Export area
Asia-Pacific, North America
China, Singapore, Taiwan, United States
Brands - Aromaville Coffee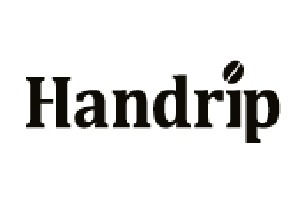 Handrip (Producer / Exporter)
Executives - Aromaville Coffee
Mr. Kibaek Song
Communications Director/Manager
Mr. HWANGIRL ROH
Chairman
Location - Aromaville Coffee
Opening hours - Aromaville Coffee
Key figures - Aromaville Coffee
Activities - Aromaville Coffee
Producer
Distributor
Service provider